About Tiger Handmade Snooker Cues
'Off The Shelf' High Quality Handmade Cues at affordable Prices!
All cues listed in this section are in stock and ready to ship today!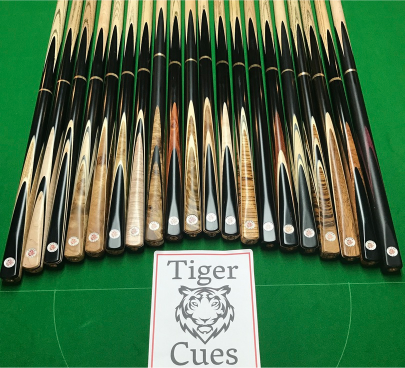 Tiger Cues are hand made by Cue Makers with 25 years cue making experience. Each cue is made by the same individual cue maker from timbers individually selected to ensure the best possible cue in the final result. Each cue takes at least two months to make.  
All Tiger Cues are hand made with either genuine North American Mountain Ash or Canadian Maple then spliced with genuine African ebony and a variety of ornate and attractive natural woods. None of our Cues HAVE ANY BLACK painted-up or covered up woods to look like ebony. Nor do they have any of that horrid thick clear lacquer some makers adorn on their cues!!  
Our cues are guaranteed either North American Mountain Ash or Canadian Maple and 100% African ebony!  
After final build each and every cue is reviewed against acting standards and if even the slightest flaw is found then the cue is discarded.
All Cues in the range are either genuine American Mountain Ash or Canadian Maple and hand spliced with African Ebony and decorative ornate natural woods. We stock tip sizes between 8mm and 10mm with a wide range of weight, butt diameter and balance points. All the cues include a 15" mini butt extention in with the price listed below.
Please
contact us
if you have any questions.